Commissions Info
This is the full information on my commissions and my current policy. More examples can be seen on my "Art" page or on my various social media accounts @pieartsy; you can find links to those in the upper right corner of my website. Email me at asterfialla@gmail.com (or message me on another platform) to reserve a slot if one is open!
Slots
Slots are the commissions I'm working on concurrently. When three slots are filled, I will close commissions. Slots will become available as commissions are finished. You can't reserve more than one slot at a time!
Commissions Progress
Prices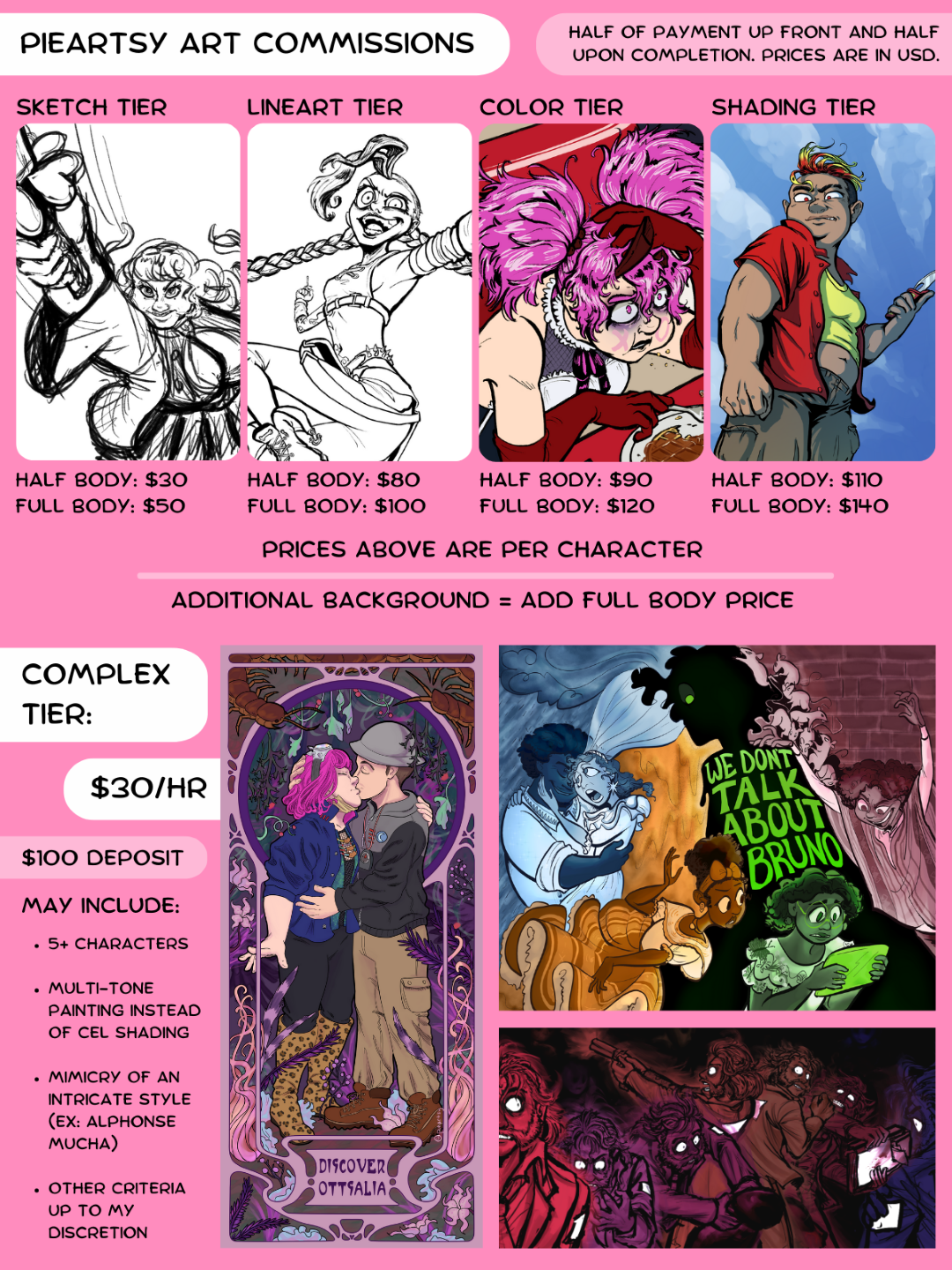 Sketch tier
Lineart tier
Color tier
Shaded tier
Half of payment up front and half upon completion. Prices are in USD.
Half body
$30
$80
$90
$110
Full body
$50
$100
$120
$140
Prices above are per character
Additional Background = Add full body price
+Background
+$50
+$100
+$120
+$140
An additional tier, "Complex", is for work I consider more labor intensive than my other tiers. Instead of a flat fee, it is priced at $30/hr. Instead of paying half of the flat fee up front, a $100 deposit is required. I can provide an estimate if requested.
This tier may include: five or more characters, multi-tone painting instead of cel-shading, mimicry of an intricate style (such as Alphonse Mucha), and other criteria up to my discretion. I will, of course, discuss this decision with you before sending any invoice.
Price Calculator
Cans and Can'ts
Can do
Furries
OCs
Fan art
Most ships
Style mimicry
Can't do:
Complex machinery
Primarily backgrounds
Realistic portraits
Incest or adult/child ships
Lineless painting
Commission Policy
I will send you an email invoice. For most tiers, you will pay half upfront and half after receiving the product. If you send me all of the money up front I will refund it and ask you to try again. For the Complex tier, a $100 deposit up front is required instead.
Please be prepared to provide as much detail on your characters' appearance and personality as possible, as well as your ideas for the illustration. The more you have, the better I can draw the illustration. A useful thread on how to provide visual references can be found at this link: How to Gather References - A Guide for Clients.
After a month has passed since the first part has been paid, if I have not started the commission in any way, I will give you a full refund of that payment on request. If I have already completed a stage of the commission (starting with the sketch) then a partial refund can be discussed. Once you have received the finished drawing, no refund is available.
I will send you the rough sketch first. Any changes at this point will be applied. You are free to ask for updates at any time, and I encourage and invite you to ask me for weekly updates. If I am asking for an update or information from you, and a week or more goes by without the requested information, I will table your commission and open up the slot for someone else. Refund rules still apply.
Once the drawing is past the sketch stage, only minor corrections (such as fixing a hand position, small color corrections, or fixing noticed errors) will be applied as needed. Any major changes (such as changing an entire pose or outfit) will cost more, at my discretion.
This is a digital good, not a physical item; however, you are free to print it out yourself. You may post this anywhere for personal use as long as you give credit to me in some way (using a social media handle or my name or website). More information on personal use can be found at this link: Personal Use Information. Cropping or editing out my watermark is not permissible. Copyright to the work remains with me.